The 1996 Summer Olympics Torch Relay
IGNITE a Light at Night
UNITE the World with LIGHT
"The 1996 Summer Olympics torch relay  was run from April 27, 1996 until July 19, 1996, prior to the 1996 Summer Olympics in Atlanta… The relay involved over 12,000 torchbearers, including Muhammad Ali, whose lighting of the Olympic cauldron at the opening ceremony is remembered as one of the most inspiring and emotional moments in Olympic history" – Wikipedia
Being chosen as a torchbearer for the 1996 Olympic Torch Relay was both humbling and an honor.
During a 1996 Olympic event in Louisville, Kentucky, my husband and I met Muhammad Ali. Remembering the stillness that filled the room as Muhammad Ali was accompanied into the ballroom was electrifying. You could feel the energy shift.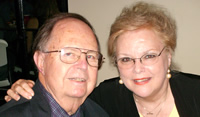 Seated behind us, my husband leaned towards me and said he would like to meet Mr. Ali. Someone must have heard him. There was a tap on my husband's shoulder. As he stood up, Muhammad Ali extended his hand as if they were old friends.
It was a WONDERFUL Memory Moment which made the Olympic Torch Relay and the Summer Olympics that much more personal to us.
In a New York Times Magazine article published SUNDAY, July 7, 1996: The Olympics;Atlanta Needs Flame! Notes From a Long Torch Trip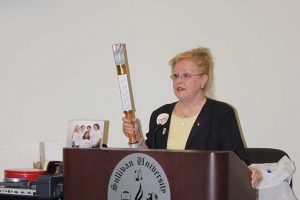 "In 60 years of Olympic torch relays, never have so many carried fire so far." During its journey, the flame was to cross the bridge from Indiana to Kentucky. The excitement was mounting on that June 5 evening in Louisville, Kentucky as everyone waited for the arrival of the flame at the Riverfront Plaza-Belvedere.
The New York Times further states, " Just minutes away from a downtown gala, University of Kentucky's basketball coach, Rick Pitino, is delayed by the F.B.I. while agents investigate a bomb threat against the event."
Once the all clear was given, the flame arrived and the festive celebratory environment once again erupted.
The flame continued its journey through Louisville the next morning making its way to Atlanta, Georgia.
Seeing the lighting of the cauldron in Atlanta on July 19, 1996, and hearing the song "The Power of the Dream," the theme song from the 1996 Olympics, the following verse stuck a nerve. "Feel the flame forever burn teaching lessons we must learn, to bring us closer to the power of the dream… The world unites in hope and peace, we pray that it will always be. It is the power of the dream that brings us here."
Continuing to "feel the flame forever burn," LIGHTFEST was born from the Olympic Torch Relay. It was originally held at Churchill Downs from 1997 to 2001. Archive Courier-Journal March 24, story of the original LIGHTFEST event by Bill Wolfe stated the "Festival radiates light, hope, dreams and Olympic spirit."
The re-igniting of LIGHTFEST was kicked off with a reception at the Muhammad Ali Center in Louisville, Kentucky, on November 8 2014, in the area that houses Muhammad Ali's torch.
LIGHTFEST Re-Ignited  continues to Inspire Hopes and Dreams.
For most, Muhammad Ali is seen as a "Symbol of Hope" throughout the world. He proved that one person can "Be Great and Do Great Things."
Muhammad Ali, 1942-2016
"Service to others is the rent you pay for your room here on earth."