Become a Key of Hope Partner
As we kick off 2016, LIGHTFEST Re-Ignited is renewing the promise to spread a message of HOPE Worldwide.
We Survive, re-ignited LIGHTEST to make good on a promise made 20 years ago by Sharon and Moody Cecil to inspire our youth to aspire.
"You + Youth = Today's Hope"
It is our HOPE that LIGHTFEST Re-Ignited will be world-changing, as we
Improve Impoverished Lives
When you donate $25 (or more) you will receive a Key of Hope while sponsoring an impoverished child to attend a Day of Hope camp and help change a life—empowering those affected by poverty and homelessness to BELIEVE in the power of having a dream.
THE KEY—Open Hearts 2 HOPE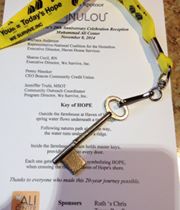 Be a Key of Hope partner.  Join by giving a gift today to help us provide life-changing experiences for children and families that are in an impoverished situation.
We believe 2016 is going to be a banner year as we spread the message of HOPE Worldwide.
Your voice and your support will mean so much to the children and families living in poverty.
Wont you donate NOW.