Beacon of Hope Project
HOPE is the thread that pulls us together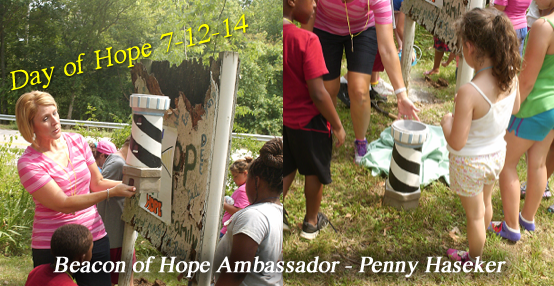 Beacon of Hope Project will provide children and families with health and wellness education while offering guidance and inspiration during Day of Hope activities at a safe haven.
Haven of Hope—We Survive's Corporate Headquarters located on 79 acres of gentle rolling woodland in Nelson Co., offers nurturance in nature providing supportive surroundings cultivating a safe environment for participants and the wildlife.
Beacon of Hope Lighthouse—guide and inspire during Day of Hope activities
Beacon of Hope Project Goals:
Build a Lighthouse at Haven of Hope
Establish a permanent fire circle (campfires represent warmth and security)
Create an interactive learning environment by building learning stations along the trails for Day of Hope activities
Recruit an Ambassador for this project
Garner Beacon of Hope members
Sponsor a Day Of Hope Programming Now
The Day of Hope programming can be held at Haven of Hope or at another designation location upon request.
For the sponsoring organization, Day of Hope events and educational programming will:
help them give back to the community and serve the impoverished children and their families in the Kentuckiana area,
offer awareness programs to schools, colleges, churches, companies and organizations
create joint experiential academic series for the enhancement of students' (middle school, high school and college) inter-professional service learning through agency affiliations through the community
increase public awareness of who are the at risk population (poor and homeless)
improve understanding of what poverty and homelessness means to health by implementing more wellness awareness programs throughout communities.
Contact Sharon at [email protected] to find out more about sponsoring a Day of Hope.
Events/programming (past and present) that light the fire that ignites Hopes and Dreams
LIGHTFEST –born from the 1996 Olympic Torch Relay held at Churchill Downs from 1997-2001 was a health and wellness event passing the Light of Hope during the Walk of Hope.
Dream Weavers—in the spring of 2007 local high school students dedicated themselves to inspiring Hopes and Dreams to children at a local homeless shelter.
Day of Hope—health and wellness activities provided at Haven of Hope in a family oriented atmosphere providing exposure to an experiential educational program with peers and role models where at-risk children and families can build trusting relationships reaching far beyond a Day of Hope.
YOU + Youth = Youth (Today's Hope)