Grassroots Movement Gains International Exposure
Written by Sharon Cecil
"How wonderful it is that no one need wait a single moment
before starting to change the world" ~ Anne Frank
A non-profit organization with headquarters located in a one stop light town, Bloomfield, KY, took a big step when they re-ignited LIGHTFEST. We Survive is sending the same message today that was sent by the original LIGHTFEST held from 1997 to 2001 at Churchill Downs in Louisville, KY— Inspiring Hopes & Dreams.
Communities around the world stepped out on November 7, 2015 to make a difference in the lives of those living in poverty. The steps taken on November 7, 2015 have kick-off a year long campaign to IMPROVE IMPROVERISHED LIVES and realize The Power of the Dream.
There are no easy solutions to poverty.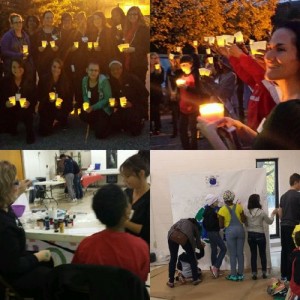 An Act Out 4 Kids (AO4K) production—Local Louisville area youth took simple steps towards social change by bringing together youth from different organizations throughout the Louisville community. They created an invitational video for LIGHTFEST Re-Ignited.
On November 7, 2015, St. Augustine in Louisville, KY as reported by WHAS 11 Staff, @WHAS11 8:47 a.m. EST November 8, 2015 "held their own 'Light of Hope' display to show support for the 'Lightfest Re-ignited Movement,' which is a worldwide campaign dedicated to showing hope and support for people living in poverty.
LIGHTFEST Re-Ignited 2016 will be November 5.
Spread the Word NOW
LIGHTFEST Re-Ignited will have activities throughout the year that will educate and raise awareness about what the impoverish face.
Check out the LIGHTFEST Re-Ignited website and get to know the LIGHTFEST Ambassadors from all over the globe.
LIGHTFEST Re-Ignited is a time to bring together communities to convey the need for attention to issues the impoverish face. Those living with and beyond poverty, family members, friends, healthcare providers and encouragers will to show the world that we all can live meaningful, productive inspiring lives.
Let's get everyone involved in this WORLDWIDE initiative to turn this snowball into an avalanche.