Sharon Cecil
Co-founder We Survive
Current Executive Director
Sharon Cecil is a registered nurse with a degree in art. Since 1994, she's put her combined education to work co-founding and creating intergenerational wellness presentations and events as the Executive Director of We Survive, Inc., a non-profit organization.
With over 40 years in healthcare, Sharon is dedicated to creating motivational and inspirational programming focusing on health and wellness.
As a breast cancer survivor and registered nurse (with a specialty in Mental Health and Psychiatric Nursing), Sharon knows we all face adversity. In 1996, Sharon started the WOW Program, dedicated to providing educational programming through intergenerational mentoring and creative expression.
Rising from the ashes of a "dysfunctional family," Sharon focuses on providing information that heightens awareness, educates, and advocates. Her motivational and inspirational talks, seminars and workshops encourage people to laugh and "lighten up." They share a common theme: maintain a positive attitude when faced with adversity.
As a 1996 Olympic Torchbearer, Sharon carries the "Power of the Dream…deep within her heart" each and every day.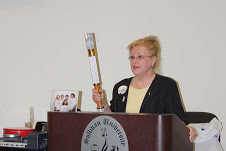 Since carrying the Olympic Torch, in 1996, Sharon has had a passionate goal of helping youth realize "The Power of the Dream,".—the theme song from the 1996 Olympics.
Through life experiences, Sharon and Marlene Will realized the importance of nutrition, physical health, and a positive mental outlook—the Mind, Body, Spirit connection.  These are areas addressed by the WOW and Creative Expression programs. Both programs advocate the position that the more a person knows about him or her self, the better prepared he/she will be to face any problems that may develop in his/her life.  Combining art and writing, Sharon believes that expressing yourself creatively offers good health and healing.
Beside being an educator, writer and consultant, Sharon has been a Certified Grief Recovery Specialist since 2002.